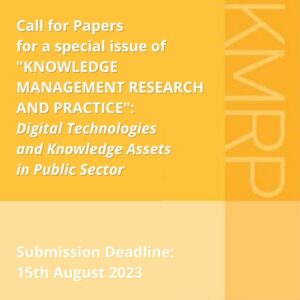 This special issue – to be published in Knowledge Management Research and Practice – is a call for theoretical and empirical contributions investigating how digital technologies impact knowledge assets within the public sector.
We spur research deemed at unveiling the mechanisms by which digital technologies can sustain and change the knowledge assets and how these allow value creation and distribution in favor of the different public sector organizations' stakeholders.
Submission Deadline: 15th August 2023.
Guest Editors:
Prof. Luisa Pellegrini,  Prof. Simone Lazzini, Dr. Zeila Occhipinti, Eng. Salvatore Tallarico, Prof. Maria Zifaro.