Dear International Student,
Welcome to the University of Pisa! We are so excited to welcome you soon to our campus.
Enrollment Process
Before arriving, please follow these important steps: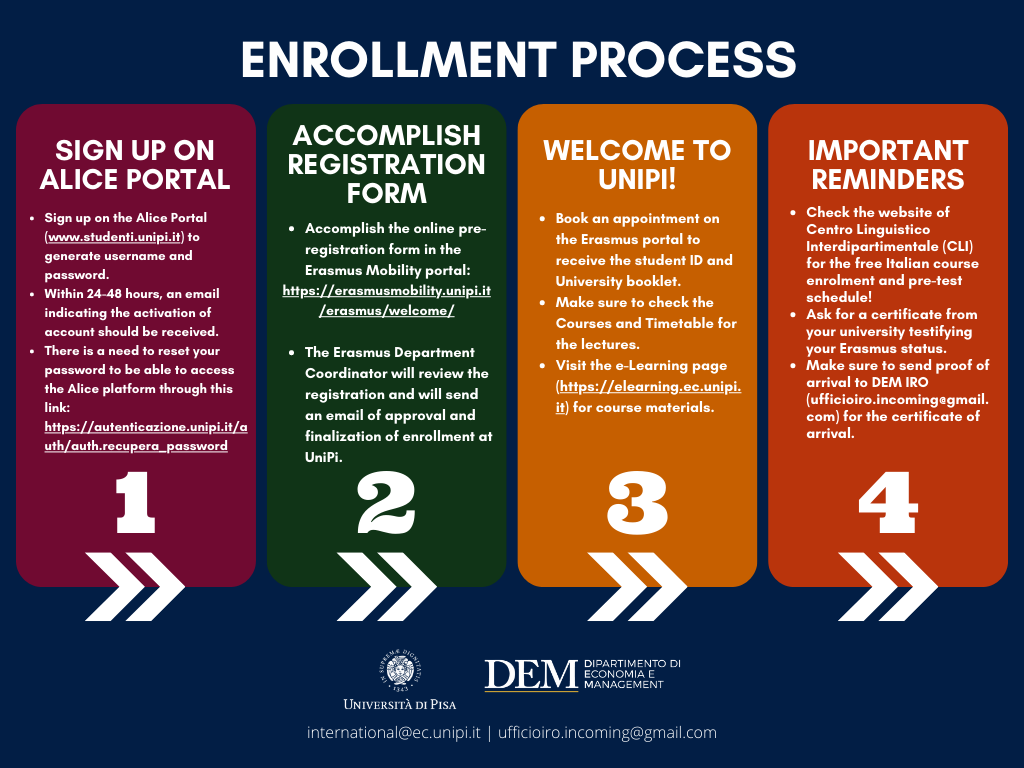 While you are still abroad you could register online through the Alice portal, in order to obtain the credentials useful to complete the enrollment procedure at the University of Pisa. How to register on the Alice Portal? CLICK HERE to download the information sheet!

When you register on the Alice portal, you will see that your tax code (codice fiscale) will be automatically generated by the system, so you can forward with no problems at all. However, please consider that the tax ID generated on the Alice portal is not the official one. 
After registration, there may be a case when you may not be able to access your account as an error will appear. In this case, you need to reset your password by clicking on the "Password recovery" button.

Fill in and submit the Application form incoming students in which you will be asked to upload the Learning Agreement before the mobility and obtain the validation from the CAI
Important Reminders
In order for you to be as prepared as possible for this new experience, please keep in mind a few logistical aspects:
Visa and residency permit: Compulsory steps if you are an incoming Non-EU Erasmus student
Entry and residency rights for EU citizens
Cost of living: although living in Pisa can be quite inexpensive, please do keep in mind that the cost of living is greater than the regular monthly stipend received by the Erasmus programme
Health insurance: learn how the health system works in Italy and what steps you need to follow before departure
Accommodation: find a few links to get you started with your apartment search
Opening a Bank account: find out if your bank at home has a branch in Italy or any agreements with an Italian bank in Pisa
Fiscal Code (Codice Fiscale)
To obtain your tax code, you can contact the Italian Embassy or Consulate in your country of residence before arriving in Italy (highly recommended).
If you are already in Pisa, please follow the steps written here.