Pisa – the home of the Leaning Tower
Pisa is world-famous for its Leaning Tower, Cathedral, botanical garden (founded in 1543 making it the oldest in Europe), and many other historical monuments. It is located in Tuscany, in the center of the Italian peninsula, near the coast of the Mediterranean Sea. Its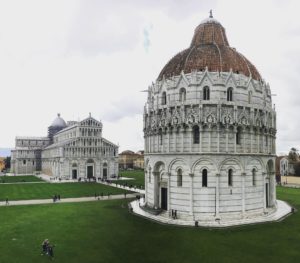 multicultural population totals around 100,000 people, in addition to the many thousands of students who enliven the city. Its cultural life revolves around museums, cultural associations, cinemas, and theatres, making Pisa a great place to live and study.
University of Pisa
The University of Pisa (Università di Pisa) is one of the most renowned educational institutions in Italy. Although formally founded in 1343, there are records to indicate that the university has been active since the 11th century. Famous alumni of the university include Galileo Galilei and Antonio Pacinotti, Nobel Prize winners such as Giosuè Carducci (Literature), Enrico Fermi (Physics) and Carlo Rubbia (Physics), and Fields medalists Enrico Bombieri and Alessio Figalli (Mathematics). Nowadays the University of Pisa represents a prestigious modern centre for teaching and advanced research. Almost all of its departments are located in the heart of the city in both the historical centre and the outer districts. Most facilities can be reached on foot within 20 minutes from the centre of Pisa.
Department of Economics and Management
The Department of Economics and Management of the University of Pisa is a lively environment where research and teaching live side by side in the areas of economics, business and management studies, mathematics and statistics. Moreover, courses on legal
theory and foreign languages applied to economics are provided.
It's one of the biggest departments of the University of Pisa, including more than 70 professors and researchers, and more than 4,000 students both at the under and post graduate level, coming from every region of Italy as well as other European countries and the rest of the world.
In recent years, the Department has particularly increased its international activities, achieving very good results. We have created an International Relations Office (IRO), we have more than doubled the number of exchange students and exchange opportunities (Erasmus and overseas), and we have developed an International Programme for undergraduates and graduates, a MSc in Economics and an MBA totally taught in English, and many other international activities. In coming years, we aim to expand the opportunities for studying business, strategy, and marketing in English. This has a double aim: intensify the presence of foreign students in our Department and stimulate our students to live and work in an international context.
Relative to research activity, it covers a lot of topics in the major fields of Economics, Finance, Business Studies and Applied Mathematics and Statistics. In the recent years, we have been participating into Jean Monnet Activities promoting excellence of teaching and research in the field of European studies around the world, and many projects of our Department have been awarded by the European Union under this framework.
Things to do in Pisa
Pisa is a wonderful city to discover!
These are some of the things that you can do here in Pisa: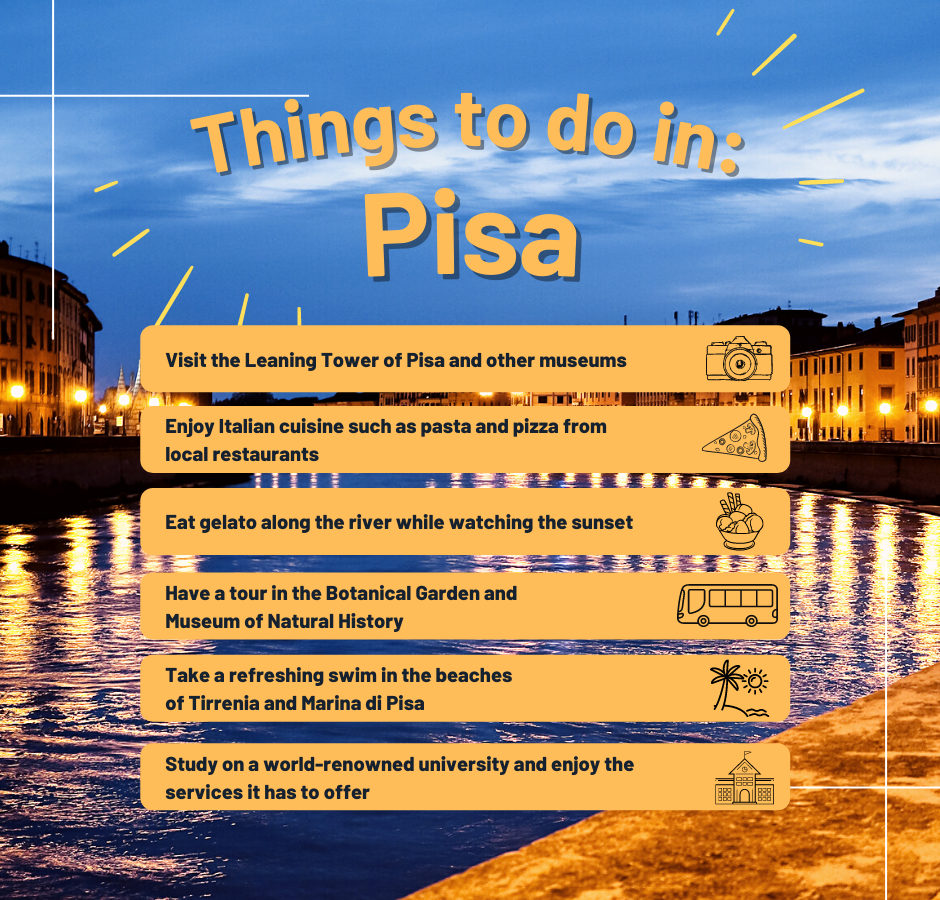 Exciting, right?
What are you waiting for? Come join us for an Erasmus+ semester here in Pisa!