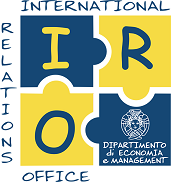 The Department of Economics and Management has always been committed to promoting the international mobility of its students.
The department has a specific office for these initiatives, strongly linked to the internationalization activities which regard research, teaching, post-graduate training and any other form of collaboration: International Relations Office (IRO).
The IRO Office collaborates at the International level in order to:
promote and organize foreign exchanges for students and university professors,
organize the "Welcome Week" for international students through city tours, trips and other recreational activities,
assist foreign students for the entire period of mobility at the Department of Economics and Management, assisting them with the various registrations and administrative procedures,
offer the Buddies service for international students with the pick up service when required,
assist Professors during the numerous requests and registrations for the Erasmus + activities.
ANY REQUEST CAN BE MADE:
INTERNATIONAL RELATIONS OFFICE (IRO)
Department of Economics and Management
Address: Via Cosimo Ridolfi 10, 56124 Pisa
Tel: 0039 050 2216396
Floor Square (Piano Piazza)
e-mail: international@ec.unipi.it
Download the INTERNATIONAL BROCHURE OF THE DEPARTMENT OF ECONOMICS AND MANAGEMENT
Dowload the INTERNATIONAL STUDENT GUIDE OF THE UNIVERSITY OF PISA
ACTIVITIES