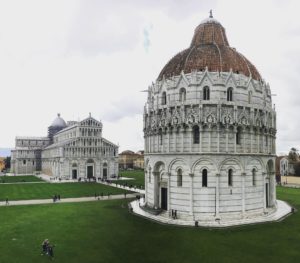 Pisa is a wonderful city to discover! The Department of Economics and Management offers you some services that will help you get used to the life as an Unipi's student.
Free Italian language course
The Department of Economics and Management of the University of Pisa organizes the free Italian language course for the incoming Erasmus students. Regardless of your level of Italian our professors would be glad to help you to improve your Italian and to make your stay in Italy more interesting. Please check the Linguistic Centre Website here
Buddy Service
The Buddy Service is the assistance provided by Italian students to a foreign one from his or her arrival at Pisa and during the whole welcome week. Your buddy provides you with the information you need about the Department, the city, University's facilities/procedures, they pick-up you at the airport/station when you arrive in Pisa.  They assist you in searching for an accommodation. Before their arrival, all incoming students will receive an e-mail containing the buddy's name, e-mail address and phone number to get in touch with her or him directly.
Other services of the Department
The Department of Economics and Management has many various facilities to make the studying process more pleasant and interesting. We have many studying rooms all over the faculty, the library, several bars and computer rooms. Students can also take part in various sportive courses and events (http://cuspisa.unipi.it) organized by the University. There are also several canteens around the city which offer both lunches and dinners for students.
How to find the accomodation
To help you book your new room in Pisa before your arrival, University of Pisa recommends HousingAnywhere, the international housing platform. Through HousingAnywhere you can safely book your new room, offered by verified private landlords and by outgoing students. 
Sign-up here to receive a University of Pisa VIP profile and priority access to all rooms available: 
https://housinganywhere.com/Pisa–Italy/university-of-pisa/sign-up 
To learn more about living in Pisa, see:
https://housinganywhere.com/Pisa–Italy
Do you need more information or have a specific question? Send an email to